Featured Products

Custom Shine Car Glaze
You wont get any better without the Butter!
Apply a small amount of product directly to the painted surface. Once dry, use a polishing pad or a buffer. Remove residue with a clean soft cloth.
Get Custom Shine Car Glaze
Shark Oil Tire Shine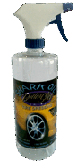 Water resistant, non-greasy and satin gloss
A blue, solvent-based polymer dressing for vinyl and rubber surfaces.
Get Shark Oil Tire Shine
Ballaz Car Cologne

Unique Scents
Get the ultimate Ballaz Car Cologne which will have your car smelling like a million bucks!
Get Ballaz Car Cologne